Timebeat Enterprise offers a unique method for letting you know exactly what is going on with your system and synchronisation.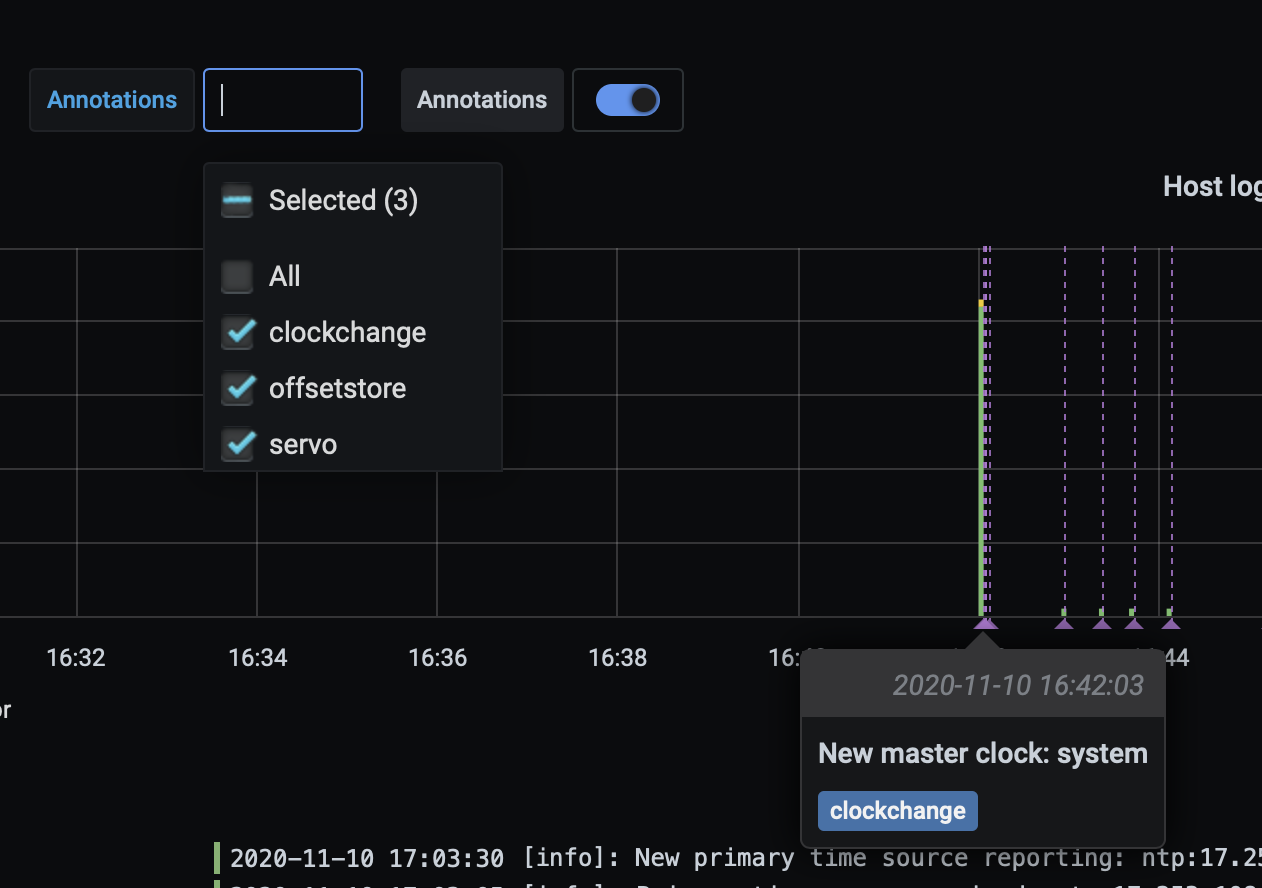 Above is a drop-down where you can see all of the annotations that are within the current time period selected. There is also a switch next to this drop-down where you can turn annotations on or off.
If you have a large time period selected and a lot of annotations have been logged during that period you may experience performance issues with your dashboards so it is always advised to select a pragmatic time period when investigating annotations.
On the right, we see an annotation when on the graph. If you hover over the arrow on the dashed line you will be able to see the full annotation. Each annotation type has its own tag and as such colour scheme which once you get familiar with you can recognise extremely easily and quickly.
Below we detail out what each annotation tag represents.
clockchange: This is triggered when timebeat switches master clocks. Typically upon startup, this is the most active however if you run bonded or team interfaces with hardware timestamping on then this will also appear when slave clocks get promoted to master.
offsetstore: This is when a new clock is added or expired. An example of when this is triggered would be if a configured local PTP source turns off; an annotation would be triggered for the expiry of a time source. Similarly when that PTP source is turned back on an annotation is triggered for a new time source. These annotations will provide details of primary or secondary source status as well as the source name / IP
servo: When the host changes between primary and secondary sources this annotation will be triggered.
Interference: When timebeat is not the only application modifying the system clock this annotation will be triggered and interference mode will take effect.
Step: Timebeat will on occasion step the host's clock if the offset is outside of slewing boundaries and within the step limit. If a step takes place this annotation will be triggered, it will also detail the amount that the clock has been stepped as well as which direction. This annotation also has a second trigger which is based around your step limit configuration. If Timebeat believes that the offset is far outside of the step limit, the configuration will not allow for the application to step the clock, Timebeat will, however, trigger an annotation so that you are aware and can configure an alert to activate.